Privacy Policy
PRIVACY POLICY (Effective date January 1, 2020)



In performing our business operations and serving our customers, Advance Marine Performance, LLC ("we", "us", "our") may collect, use, and share personal information about you ("you" or "users"). This Privacy Policy is meant to help you understand how we do that and how to exercise the choices and rights you may have in your personal information. If you need to access this policy in an alternative format, we encourage you to contact us.This policy applies to all users of our website and all our platforms and services, including but not limited to any apps, features, websites or other services (our "Platform"). Please remember that your use of our Platform is also subject to our
Terms and Conditions.
By using our Platform, you signify your acceptance of this Policy. When you use our Platform, you are agreeing to the most recent terms of this policy. If you do not agree to this policy, please do not use our Site.
This website is not subject to the GDPR because we do not collect or process data on EU Subjects, and if you are an EU Subject attempting to submit data it will not be accepted or received.
1. COLLECTION OF PERSONAL IDENTIFICATION INFORMATION
When you use our Platform, we may collect or receive Personal Information about you to provide our services and operate our business. The types of Personal Information that we may collect about you are:
a) Information You Provide Directly:

You may provide your Personal Information directly to us when you use our Platform including, but not limited to, when you visit our site, register on the site, place an order, subscribe to the newsletter, respond to a survey, fill out a form, and in connection with other activities, services, features or resources we make available on our Site. Users may be asked for, as appropriate, name, email address, mailing address, phone number, credit card information. Users may, however, visit our Site anonymously, and users can always refuse to supply personal identification information, except that it may prevent them from engaging in certain Site related activities.
b) Information Collected Automatically
We may collect information about you whenever you interact with our Platform, including but not limited to the browser name, IP address, the type of computer and technical information about Users means of connection to our Site, such as the operating system and the Internet service providers utilized and other similar information. We may also collect usage information about your use of our Platform, including information about your interactions with our Platform, including the pages and content you view and the dates and times of your use.
c. Information from Third Party Services
We may collect or receive Personal Information about you from publicly available sources, social network providers, marketing partners, vendors, our independent sales representatives, our authorized boat dealers, and/or other third parties.
2) COOKIES, ANALYTICS, AND THIRD PARTY TECHNOLGIES
Our Platform may collect information through the use of "cookies", data analytics tools like Google Analytics, and other third party technologies to understand how you navigate through our Platform, to make your experience safer, to learn what content is popular, to improve your site experience, and to save your preferences. Cookies are small text files that web servers place on your device or your hard drive for record-keeping purposes and sometimes to track information about them; they are designed to store basic information and to help websites and apps recognize your browser. You may choose to set your web browser to refuse cookies, or to alert you when cookies are being sent. If you do so, note that some parts of our Platform may not function properly.
3. USE OF YOUR PERSONAL INFORMATION
We may collect and use your personal information for the following purposes:
a) To Provide You with Our Products and Services
You visit our Platform to learn about or investigate a purchase of our Products and Services, and your information permits us to provide information to you for those purposes.
b) To Provide and Improve Customer Service and Communicate with You
Information you provide helps us respond to your customer service requests and support needs more efficiently.
c) To Personalize User Experience
We may use information in the aggregate to understand how our Users as a group use the services and resources provided on our Platform. To improve our Platform, we may use feedback you provide to improve our products and services.
d) To Process Payments
We may use the information you provide about yourself when placing an order only to provide service to that order. We do not share this information with outside parties except to the extent necessary to provide the service.
e) To Run A Promotion, Contest, Survey or Other Site Feature
We may use the information you provide about yourself to send you information you agreed to receive about topics we think will be of interest to you.
f) To Send Periodic Emails
We may use the email address to send you information and updates pertaining to your order. It may also be used to respond to your inquiries, questions, and/or other requests. If you decide to opt-in to our mailing list, you will receive emails that may include company news, updates, related product or service information, etc. If at any time the you would like to unsubscribe from receiving future emails, we include detailed unsubscribe instructions at the bottom of each email or you may contact us via our Platform.
g) To Enforce Compliance with Our Terms and Conditions and Policies
When you access or use our Services, you are bound to our Terms and Conditions and this Policy. To ensure you comply with them, we may process your Personal Information to: investigate, prevent or mitigate violations of our internal terms, agreements or policies; enforce our agreements with third parties and business partners.
h) To Respond to Legal Proceedings and Requirements.
Sometimes the law, government entities, or other regulatory bodies impose demands and obligations on us. In such a circumstance, we may use your personal information to respond to those demands or obligations.
4) SHARING YOUR PERSONAL INFORMATION WITH THIRD PARTIES
We do not sell, trade, or rent your personal identification information.. We may share generic aggregated demographic information not linked to any personal identification information regarding visitors and users with our business partners and trusted affiliates for the purposes outlined above. And in performing our business operations and serving our customers, we may share your personal information with third parties, and service providers, as follows:
a) Service Providers:
We may share your information with our third-party service providers for certain business purposes. This information is provided in order for them to provide us services such as payment processing, advertising services, marketing services, promotional services, web analytics, data processing, IT services, customer support services, product ordering and sales, maintaining our Platform, preventing fraud, verifying identity of users, and other services. These third-party service providers have access to your Personal Information only for the purpose of performing services on our behalf and are expressly obligated not to disclose or use your Personal Information for any other purpose.
b) Authorized Vexus Boat Dealers and Authorized Independent Sales Representatives
We may share your Personal Information with authorized Vexus Boat dealers and Authorized Independent Sales Representatives in order to support your interest in our product, and provide customer service and assistance, including but not limited to your name, phone number, email address, product interest and similar information.
c) For Legal Reasons
We may be required to disclose your personal information to third parties when required to protect and defend our legal rights, protect the safety and security of users of our Services, enforce our Terms and Conditions, prevent fraud, comply with the law, respond to legal process, or a request for cooperation by a government entity or law enforcement.
d) Corporate Transactions
In the event of sale, transfer, merger, reorganization, dissolution, or similar event we may transfer your information to one or more third parties as part of that transaction.
e) Upon Your Direction
With your permission or upon your direction, we may disclose your personal information to interact with a third party or for other purposes.
5) HOW WE PROTECT AND STORE YOUR INFORMATION
We adopt reasonable and appropriate measures to safeguard Personal Information. But no security measures can be 100% effective, and we cannot guarantee the security of your information, including against unauthorized intrusions or acts by third parties. We will retain your Personal Information for as long as needed to provide you services and to maintain a record of your transactions for reporting or compliance purposes. We will also retain and use your Personal Information as necessary to comply with our legal obligations, resolve disputes, and enforce our agreements.
6) THIRD PARTY WEBSITES
Users may find advertising or other content on our Platform that link to the sites and services of third party websites. We do not control the content or links that appear on these sites and are not responsible for the practices employed by websites linked to or from our Platform. In addition, these third party websites or services, including their content and links, may be constantly changing. These sites and services may have their own privacy policies and customer service policies. Browsing and interaction on any other website, including websites which have a link to our Site, is subject to that third party website's own terms and policies. If you provide any Personal Information to any third party or through any such third-party website, we recommend that you familiarize yourself with the privacy policies and practices of that third party.
7) YOUR RIGHTS AND CHOICES REGARDING YOUR PERSONAL INFORMATION
As explained more fully below, there are ways for you to exercise data rights that give you certain control over your personal information.
a) All Users
Questions. If you have any questions or concerns about your privacy or anything in this policy, including if you need to access this policy in an alternative format, we encourage you to contact us.
Email Subscriptions. If we send you emails with company news or other information that may interest you, each email will contain instructions permitting you to unsubscribe of receiving future marketing or other communications.
Cookie Tracking. You can modify your cookie settings on your browser, but if you delete or choose not to accept our cookies, you may be missing out on certain features of the Platform.
b) California Residents
The California Consumer Privacy Act provides some California residents with the additional rights listed below. To exercise these rights, see the "Exercising Your California Privacy Rights" section below.
California Right to Know
California residents have the right to request and know what personal information we have collected about you over the past 12 months, including:


The categories of personal information we have collected about you;
The categories of sources from which the personal information is collected;
The business or commercial purpose for collecting your personal information;
The categories of third parties with whom we have shared your personal information; and
The specific pieces of personal information we have collected about you.
California residents have the right to request that we delete the personal information we have collected from you (and direct our service providers to do the same). There are a number of exceptions, however, that include, but are not limited to, when the information is necessary for us or a third party to do any of the following:
Complete your transaction;
Provide you a good or service, or maintain ownership, warranty, recall or other service records;
Perform a contract between us and you;
Protect your security and prosecute those responsible for breaching it;
Fix our system in the case of a bug;
Protect the free speech rights of you or other users;
Comply with the California Electronic Communications Privacy Act (Cal. Penal Code § 1546 et seq.);
Engage in public or peer-reviewed scientific, historical, or statistical research in the public interests that adheres to all other applicable ethics and privacy laws;
Comply with a legal obligation; or
Make other internal and lawful uses of the information that are compatible with the context in which you provided it.
California Right to Opt-Out of the Sale of Your Personal Information
California residents have the right to opt-out of having your Personal Information sold. We do not sell or rent Personal Information to third parties.
California Right to Non-Discrimination
California residents also have the right not to be discriminated against for exercising any of the rights listed above.
California -- How to Exercise Your California Privacy Rights.
To request access to or deletion of your personal information, or to exercise any other data rights under California law, you or an authorized agent may contact us using one of the following methods:

You may write to us to exercise rights. Please include your full name, street address, email address, and phone number associated with your use of our Platform, along with why you are writing, so that we can process your request in an efficient manner.
Toll Free Telephone Number
You may call us at
(833) 698-3987
, and ask to speak with someone to make a California Privacy Request.
Upon receipt of a California Rights Request to Know or Delete from you or an authorized agent, we must verify the identity of the person submitting request, and if that person is an agent for you then we must verify the authority of the agent to act on your behalf. In order to be able to act, authorized agents have to submit proof that they are authorized to act on your behalf, or have a power of attorney. We may deny requests from authorized agents who do not submit proof that they have been authorized by you to act on your behalf. In verifying your identity following a request submitted by you, we will attempt to verify your identity using account or other information you have provided to use previously, and if that is not possible, we will use an outside service provider to verify your identity.
c) California "Notice at Collection" of Personal Information
Pursuant to the California Consumer Privacy Act of 2018, this constitutes a " Notice at Collection" and a summary of the Personal Information we collected or may collect from consumers, the reason we collected or may collect the Personal Information, where we obtained or may obtain the Personal Information we collected, and the third parties with whom we shared or may share consumer Personal Information. The Section references listed in the chart below relate to the Sections above in this Privacy Policy.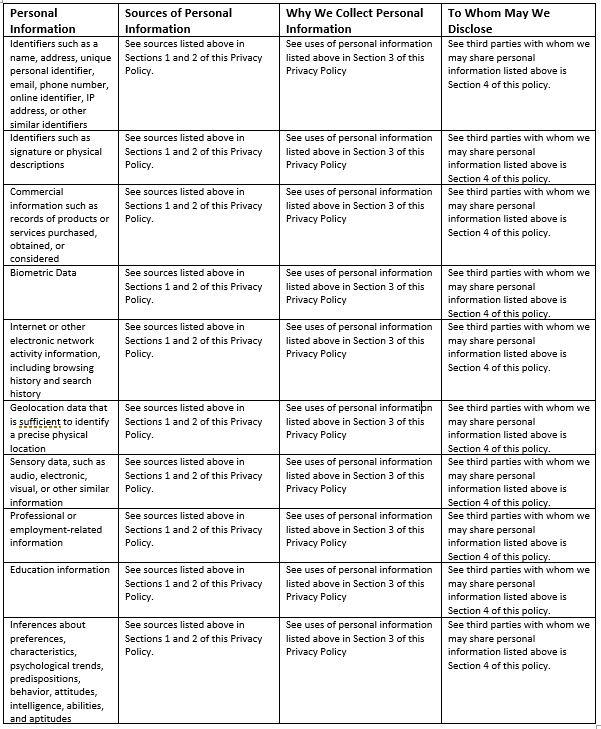 8) CHANGES TO THIS PRIVACY POLICY
We have the discretion to update this privacy policy at any time. When we do, we will revise the updated date at the bottom of this page. We encourage Users to frequently check this page for any changes. You acknowledge and agree that it is your responsibility to review this privacy policy periodically and become aware of modifications.
9) CONTACTING US
If you have any questions about this Privacy Policy, the practices of this site, or your dealings with this site, please contact us at:
Advanced Marine Performance, LLC
Attention: Privacy Inquiries
727 West Industrial Park Road
Flippin AR, 72634
1-833-698-3987