DVX19s
Starting at $67,523 MAP*
Rod Box Length
7' 6" Center
It's been called the "Ultimate, multi-purpose, multi-species fishing rig." From space to features to performance, the DVX19s is a family fun fishing rig that's built to make the most of every outing. Plus, with a 101" beam, wide-open interior, and keel-forward design, it's likely the biggest, driest, smoothest, and most fishable 19-footer on the water.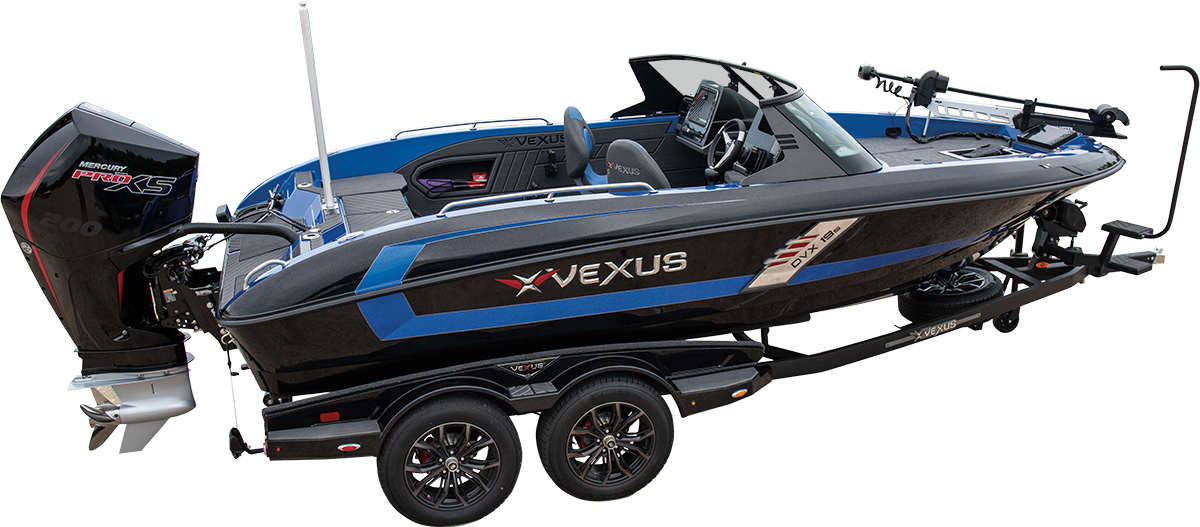 DVX20
Starting at $85,975 MAP*
Rod Box Lengths
8' Port / 8' 4" Center
Power, control, drive, and domination. That's the radical DNA and intense standards bred into every model in our revolutionary DVX series. Overshadowing all other designs in the class, these deep vee machines are hand-built to Master the Art of Form, Function, and Fishing™.

DVX20s
Starting at $88,396 MAP*
Rod Box Lengths
8' Port / 8' 4" Center
Built with the added strength and precision of Infused Composite Construction™, the DVX20s is designed to fully embrace your time on the water. Whether you're fishing, skiing, tubing, camping, or just hanging out with family and friends, this 'whatever-the-day-brings' machine is a total performance design. From the keel up, the 20s is crafted on the water-crushing DVX hull.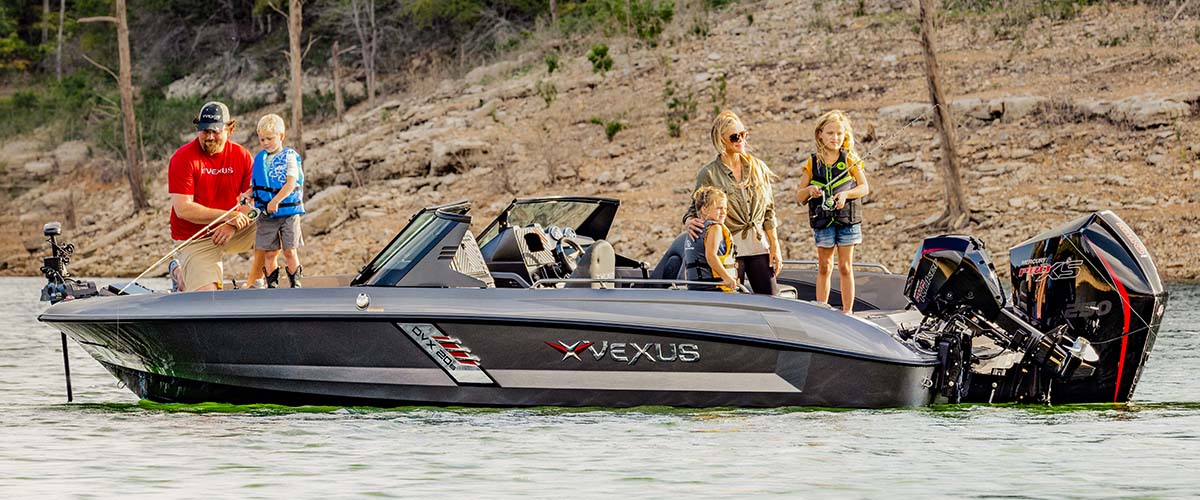 DVX22
Starting at $88,901 MAP*
Rod Box Lengths
8' Port / 8' 10" Center
Power, control, drive, and domination. That's the radical DNA and intense standards bred into every model in our revolutionary DVX series. Overshadowing all other designs in the class, these deep vee machines are hand-built to Master the Art of Form, Function, and Fishing™.
ABOUT DVX SERIES
Power, control, drive, and domination. That's the radical DNA and intense standards bred into every model in our revolutionary DVX series. Overshadowing all other designs in the class, these deep vee machines are hand-built to Master the Art of Form, Function, and Fishing™.

Bow to stern, you'll see an endless flow of ground-breaking advantages. The DVX hull and deck, themselves, are drastically different. Precision built with Infused Composite Construction™, every part of our high-tech fiberglass formula is vacuum-infused for optimum glass-to-resin ratios as well as repeatable consistency. With our exclusive hull lamination schedule and quadraxial glass composition, the makeup of these hulls is revolutionary – just one of a series of First-and-Best-in-Class™ features. Lighter, faster, stronger, drier, and smoother, these rigs were made to Rule Rough Water™. The performance-enhanced hulls not only include water-gripping strakes for more responsive handling and a far superior ride but also scooped hull-sides with secondary spray rails for the driest of runs and head-turning good looks.
Another bonus inside all DVX models is the lower center of gravity afforded by the deeper hull designs. This exclusive distinction allows the baffled fuel tank to be positioned below the floor. The result? An unparalleled ride with incredible stability and tracking features. Precision cut on a 6-axis router, the master molds were engineered with raised lifting strakes as well as a keel-forward design. It's a performance-rich innovation adding a whole new level of balance, handling, and confidence. Feature after feature, these rigs were expressly built for our Total Performance Machine™ label… Long before the first glass was laid into the mold.

Inside, the layouts are loaded with exclusive features and engineering break-throughs. It's a focus on fishing you'll immediately notice in the elevated front deck. Not only does this platform allow anglers a better line of sight but also makes for more efficient and accurate presentations – whatever you're chasing, from walleye to musky to bass.

Equally impressive is the sheer volume of wide-open space in a DVX. Capitalizing on the extra width in the forked-bow design, there's a world of added room on the raised front deck. There's even more record-setting space in the cavernous storages as well as the cockpit, rod capacities, rear deck, and the panels for flush-mounting huge electronics. Likewise, the feature-packed front deck is equipped with dual seat bases, rod tip boots built into the windshield pillars, a recessed trolling motor pedal, and bow station with flush-mount capabilities for today's oversized fish finders. Even more electronics can be added with our Victor™ Bracket.

When it comes to dryness, gear storage is incredibly well-protected with our custom-designed Dri-Max™ compartments. It's a system engineered to help pull water from the decks and quickly channel it out of the boat. Details include reinforced, sealed box liners as well as even taller moisture barriers, deeper drainage channels, form-fitting weather trim, and tournament-grade, stainless steel compression latches.

DVX rod storage is nothing less than massive and includes a center and port box on the front deck. Each is equipped with larger, oval-entry, closed tip tubes and divider options. Topside, retractable rod straps work with integrated rod boots positioned just below the consoles. Likewise, the reversible passenger rod system keeps even more rods at the ready. Everywhere you look, the DVX series is built to Raise the Bar of Craftsmanship and the Rewards of Ownership™.

To that point, you'll notice even more advancements in the cockpit. First, take a long look at how the automotive-style windshield mounts to the structural integrity of the deck – not the consoles. It sits on a foundation that's part of the boat and not an add-on feature prone to movement. Plus, the windshield and frame function as one unit, further reinforcing the strength and rigidity of the system, helping everything stay perfectly aligned and stable.

The massive cockpit includes a helm with smooth SeaStar Pro tilt steering, anti-vandal switches, and a world of room for flush-mounting extra-large electronics. Instrumentation includes GPS digital gauges receiving data directly from the outboard with no leaky hoses or clogged pick-up tubes to worry with. Also on the helm, our passive keyless ignition with remote fob brings even more versatility with multi-function switches and automotive-style security.

Reinforcing the advanced comfort of the high-performance seats, anglers everywhere will appreciate the secure ride and feel of AirWave® suspension systems on the driver/passenger seating. This shock-absorbing design works hand-in-hand with our all-new DVX hull to deliver the absolute smoothest, big-water ride. Beneath your feet, UV-stable EVA rubber dominates the cockpit floor. Skid and water resistant, the covering is easy to clean and provides an exceptional all-weather surface. Below the floor, the power compartment is immense, offering easy access to up to five batteries.

The rear deck includes our exclusive, Intensive Care™ Livewell System (Patent Pending). It's a design that takes the well-being of your catch as seriously as you do. Surrounding your fish with an even better environment than they came out of, this 21st century innovation is pioneering a whole new approach to conservation. With it, those last-dash rough water runs have met their match. While every DVX well has a standard level of fill, when this design is fully topped off, the pressure-filled level virtually eliminates water slosh, delivering an incredibly smooth, secure ride for the fish – whatever the size of the waves and chop. The 50-inch rear well is also equipped with a storage tray, keeping tools like fish weights, culling tags, and deflator needles right where you need them. Coupled with an Oxygenator and cull view lids, this groundbreaking livewell is one more reminder that the DVX Series is truly Changing Everything™.

Looking farther aft, the elevated rear deck offers even more bonus features including our exclusive Cold Spot™ cooler. So well insulated, it's especially developed to keep a long-lasting polar chill on drinks and snacks throughout the day. Nearby, we've made it equally easy to access the bilge and pumps while building in a custom storage compartment well-suited for tackle trays and miscellaneous gear boxes. Also nearby are a pair of dual net storage slots. Combined with the floor position, it's a Triple-Net Threat™, making sure the net is always close - wherever you are in the boat.

We'd be missing a huge advantage in the DVX series if we overlooked the post painting process. The exceptional finish on a DVX clearly stands out in a crowd – and for good reason. While hi-endurance gel-coat covers the hull bottom, our multi-stage Hard Case™ paint surrounds the rest of the rig with an incredible shield. The new-era, color armor is unrivaled; setting the highest standards for durability, shine, strength, and worry-free maintenance. Plus, it's a hands-down winner in chemical, gas, scratch, impact, and even salt spray resistance tests. Bow to stern, this performance-proven process means your rig stays sharp without the worry of sunbaked chalking, cracking, and crazing so common in ordinary gel-coat and poliflake surfaces.

Among the additional, countless extras on a DVX rig are the built-in mounting sites for kicker motors on both the port and starboard sides of the transom, an external charging/battery meter station, retractable ladder with digital safety switch, a full transom helping defend against accidental backwash, striker plates on box latches to protect the deck finish, an oversized, stainless steel bow eye plate, integrated keel protector, ultra-bright LED interior lighting, on-board charger, remote drain plug, choice of factory-rigged outboards, and exponentially more efficient power delivered with our state-of-the-art wiring harnesses. Even the trailers have been completely re-designed with integrated fender storage, our exclusive Hard Case™ paint, Victor-Shield™ UV-stabilized polyurea coating on the frame, custom 17-inch wheels, full license plate holder, and a world of redundant LED lighting.

The sheer number of innovations and revolutionary features built into the DVX series is staggering. Check out the full roster of equipment as well as the world class ride, quality, innovation, and performance of the game-changing DVX series. Bow to stern, it's Innovation Unchained and Performance Unleashed™!